Tue, 21 October 2014
Battle Bards Episode 37: At the Market Fair
Pack your coin purse, for the Battle Bards are off to the market! In this episode, we'll examine music not only from MMO marketplaces, but tracks that inspire the feeling and atmosphere of bustling towns, harbors with ships being unloaded, and merchants selling exotic wares. It's so much happy and uplifting music that you'll forget to be an internet cynic for at least two days!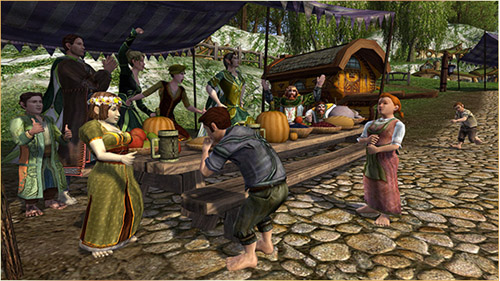 Episode 37 show notes

Intro (featuring "Nightfall Freedom Harbor" from Forsaken World and "Brownie Storehouse" from Vanguard)
"Selbina" from Final Fantasy XI
"The Town Market" from Elsword Online
"Inside the Marketplace Tent" from Dungeons and Dragons Online
"Town of Giran" from Lineage II
"Draynor Market" from RuneScape
"Free Market" from MapleStory
"Town of Morvan" from Vindictus
Which one did we like best?
Mail from Logun
Outro
Comments[1]
---
Tue, 7 October 2014
Battle Bards Episode 36: The Many MMOs of Tracy W. Bush
This week we welcome Composer Tracy W. Bush onto the show to talk about his vast experience in the MMO industry. His body of work includes World of Warcraft, DCUO, Dungeon Runners, Tabula Rasa, Free Realms, and City of Heroes. He's also quite the talker, so if you want to get some insight into how the creative process works on a deadline, this will be the episode for you! Also, you'll hear Tracy recreate his Murloc voice -- yup, this is the guy who created that iconic sound.
Unfortunately, this week Steff was AFK, so it was up to Syl and Syp to grill Tracy. Don't worry, Steff will be back for episode 37!
Episode 36 show notes

Interview with Tracy W. Bush
"Darnassus" from World of Warcraft
"Radio Free Zerg" from StarCraft
"Darnassus" from World of Warcraft
"Tanaris" from World of Warcraft
"Cimmora Main Theme" from City of Heroes
Tracy's Murloc demo
"Townston Theme" from Dungeon Runners
"Rattletooth's Lair" from Dungeon Runners
"Townston Theme" from Dungeon Runners
"Blue Turns to Grey" from Tabula Rasa
"AFS Outpost" from Tabula Rasa
"Checkers" from Free Realms
"Gotham City BGM" from DC Universe Online
"Cooking" from Free Realms
Mail from JadenK
Outro ("Radio Free Zerg" from StarCraft)
Comments[1]
---