Tue, 17 February 2015
Battle Bards Episode 45: Rock on!
This week the Bards have invited long-time friend and listener Belghast to join them -- and to pick the topic for the show! Bel picked a fun and unusual theme: Rocking out with electric guitars. Do MMOs and rock mix? On this particular episode they do!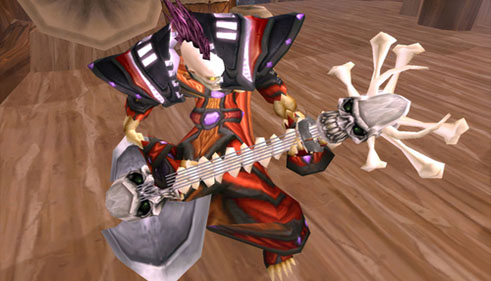 Episode 45 show notes

Intro (featuring "Blue Turns to Grey" from Tabula Rasa, "Battle on the Big Bridge Reborn" from FFXIV, and "Prologue" from Castlevania SOTN)
"Titan Battle Theme" from FFXIV
"Alonewolf" from Rusty Hearts
"Toko" from Granado Espada
"Character Select/Map Load" from Heroes of the Storm
"New Conglomerate Main Theme" from PlanetSide 2
"Malicia's Finale" from DDO
"Lucid Dreaming" from Aion
What track did we like the best?
Mail from Akiranon
Outro
Comments[2]
---
Sorry for some reason I thought Syl was from Sweden and would therefore know who Yngwie (pronounced ing-vay here in the US) was by default - he was recently inducted into the Swedish Music Hall of Fame. He bought the idea of mixing classical pieces into metal with electric guitar to the masses and spawned a genre known as neoclassical metal. Here is an instrumental and a Viking themed song from his mid 80s releases: https://www.youtube.com/watch?v=blNQZc84Q5c&list=PL0t0vRFW28R-eIlp0M6qNyoPzvbPVgkJC https://www.youtube.com/watch?v=rcwcxBf_fTE Sorry for the mixup.
Adding comments is not available at this time.